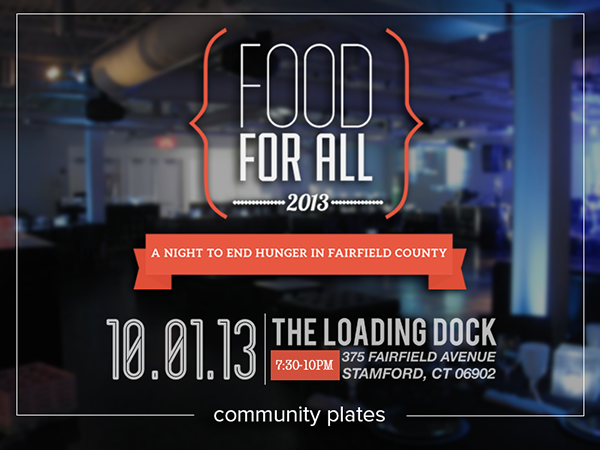 It's September 8.  That's the date we told you that you'd no longer be able to get the early bird prices for the Food for All 2013:  A Night to End Hunger in Fairfield County event for Community Plates.  This event was put together to help Community Plates in their mission to rescue over 3,000,000 meals by 2014, feeding the hungry in Fairfield County.  Quite an admirable goal, especially considering that they've rescued 2,000,000 already since they began in 2011.  Food for All is taking place on October 1 at The Loading Dock in Stamford and there will be two ticketing options depending on how much you'd like to help out.
And, even though the early bird pricing is gone, by using two special codes you can get a nice discount!  Enter the code "OmNomVIP" without the quotation marks and you'll receive $50 off the price of the cocktail reception, bringing the total price down to $200 or enter the code "OmNom" and you'll receive $25 off the price of the main event, bringing the price down to $125.  But, there's even another way to get yourself in the door for this highly coveted ticket…just donate.  Yes, just click here, and donate whatever you feel comfortable with.  The winners of 10 pairs of tickets will then be chosen by Community Plates and announced on September 21.
Here's the description from our original post of what you'll get with each ticket to further entice you to come along!  We hope to see you there.
1) VIP Cocktail Reception from 6:30-7:30
VIPs will have access to a cocktail reception that features local chefs, an Oyster bar courtesy of Norm Bloom and Son, an open bar, and other surprises.  You'll also receive access to A Night to End Hunger.

Tickets are $200 each until September 7 or $250 until October 1.  Use OmNomVIP as your discount code for $50 off.
2) A Night to End Hunger from 7:30-10
Some of Connecticut's hottest and newest restaurants will be on hand, giving tasty portions of their food.  There will be dancing, an open bar (they go very nicely together), a talk about food insecurity, special recognitions, and lots of surprises along the way.  We can't wait to share some of the great stuff that's planned out for you.  In the meantime, here are some more details about A Night to End Hunger

Tastings from…

Cask Republic, the Stamford-based tavern voted one of the best pubs in Connecticut.
Aladin Indian Bistro (Norwalk), where lighter more health conscious 'traditional' Indian food delivers the dramatic impact of the cuisine's spices and preparation techniques.
Mama's Boy Southern Table & Refuge, which offers Southern hospitality and charm with a little sass.
NOLA Oyster Bar in Norwalk, where the dining experience incorporates "from New Orleans to Maine and all shorelines in-between."
Post 154 (Westport), with a land and sea menu concept that is global, often playful, occasionally more refined, and always flavorful and contrasting.
323 Restaurant & Bar in Westport, which combines the charm of an authentic New England farmhouse with New York sophistication.
The Spread in Norwalk (just added)
Millstone Farm in Wilton (just added)
Bar Sugo in Norwalk (just added)
Oak + Almond in Norwalk (just added)
Mecha Noodle Bar in Fairfield (just added)
Bailey's Backyard in Ridgefield (just added)
Baro in Fairfield (just added)
Boca in Stamford (just added)
Redding Roadhouse in Redding (just added)
And even more restaurants that will be added shortly.

Open bar and dancing…

Reveal of Community Plates award-winning GoRescue program

Recognition of Fairway Market Stamford (food donor), Thomas Merton Center/St. Stephen's Food Pantry (Partner Agency), and Siobhan Crise (Volunteer Food Runner).

Tickets are $125 each until September 7 or $150 until October 1.  Use OmNom as your discount code for $25 off.

Food for All:  A Night to End Hunger in Fairfield County

10/1 from 6:30-10 pm

The Loading Dock

375 Fairfield Avenue

Stamford, CT