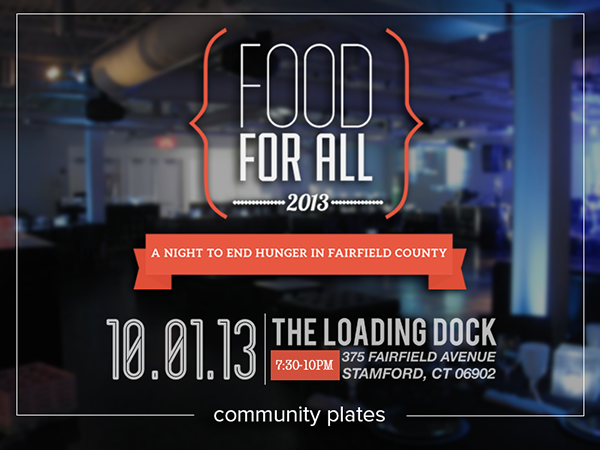 It's been great to be on the Community Plates Benefit Committee to help spread the word about Food for All 2013:  A Night to End Hunger in Fairfield County.  We have helped spread the word to our friends, our families, and to all of you, our readers.  But, we feel like we it's not enough.  We feel like there's still so many more people we wish that we could reach, more people that we could tell about Community Plates and how they're helping to save millions of meals each year with the help of local businesses and restaurants.  
So, we want to let you know about Food for All 2013 one more time here on our blog.  
Today is the very last day for you to win one of 10 pairs of tickets simply by donating money to Community Plates.  Just go to this page, donate any amount, and you'll be in the running for tickets.  The winners will be announced by Community Plates tomorrow, so make sure you get those donations in.  Even if you only have $10 or $20 on hand to donate, that's valuable money for them that they will be able to use to help wipe out hunger in Fairfield County.
And, again, if you'd like tickets, remember the discount codes…
If you want to be part of the killer VIP Cocktail Reception that includes the main event, enter "OmNomVIP" as your code to get the tickets for $200 instead of $250.  That will get you an open bar and cocktails, snacks, and an oyster bar from Norm Bloom and Son.
And, if you just want to go to the main event, enter code "OmNom" as your code to get the tickets for $125 instead of $150.  Your donation will get you dancing, an open bar, lots of fun surprises, and chances to sample some of the newest and some of the best restaurants in Fairfield County.  You know you've wanted to try all of these restaurants, so here's the perfect opportunity.  
We're talking about…
For more info about Food for All 2013, please check out our original post.
Food for All:  A Night to End Hunger in Fairfield County

10/1 from 6:30-10 pm

The Loading Dock

375 Fairfield Avenue

Stamford, CT