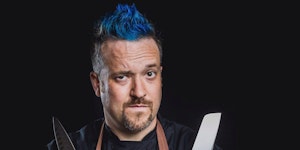 Chef Plum continues to kick ass and take names with his ever-popular and continually-sold-out Dinner Underground series. This time, though, it's a new deal for him, as he takes over the Minor Memorial Public Library in Roxbury! And, what he has in store for undergrounders will be pretty damn awesome. Before we check out the menu, here are the down and dirty deets:
"Humble" Dinner Underground on July 11 from 6-9:30 at Humble Minor Memorial Public Library in Roxbury with tickets costing $85. Also, a portion of that $85 goes right back to the library, so feeding your need helps to keep more books on the shelf.
Okay, let's get to the menu for the night:
1) Scotch Egg
Baby beet greens / chive juice / dijon spice
2) Salt Baked Local Trout
Local Carrot / Arugula / Olive Oil
3) Asparagus Salad
Smoked Beet / Powdered Honey / Charred Sun Gold Tomato
4) Pork BBQ
Anson Mills Cornbread / Bok Choy Slaw / Homemade Bread and Butter Pickle
5) Rhubarb Trio
Granita / Candy Curl / Rolled
Because Plum will have adult beverages as part of the meal, this event is 21+ only. Also, this will definitely sell out soon, so if you're planning on getting tix, get 'em fast.