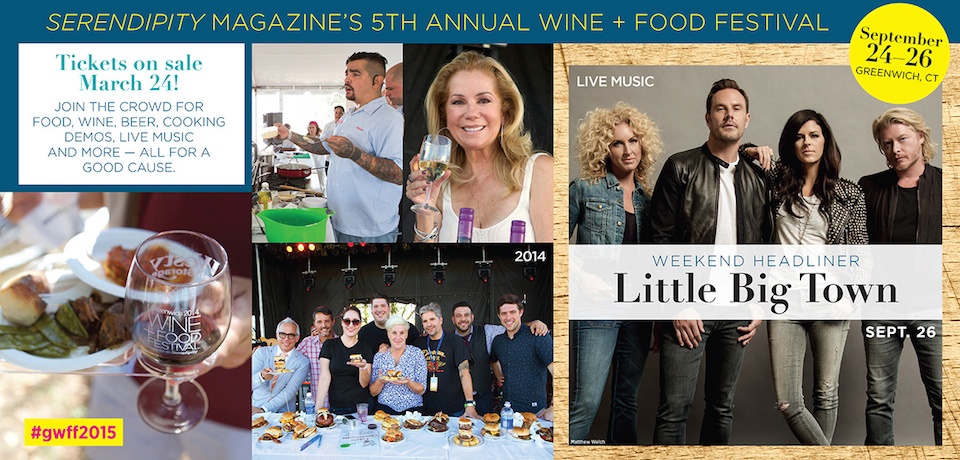 Fall ushers in crispy leaves that coat the ground, cooler temperatures, and some of our favorite events of the year . . . namely The Greenwich Wine + Food Festival. And, while it's tough for us to pick our favorite part of the entire experience, we always look forward to Saturday where all the action goes down. This year, the Festival and Grand Tasting is on 9/26 at Roger Sherman Baldwin Park in Greenwich, goes from 12 to 10 and is destined to be even more amazing than last year. From talking with and watching demos from celebrity chefs, to trying great bites of food and tastes of drinks from over 200 restaurants and vendors, to sipping on amazing drinks, and to live music, there's so much to experience that you really need to stay there the whole day. Tickets are $145.20 and that includes more experiences and food than ever! 
But, thanks to Greenwich Wine + Food Festival, we're psyched to be giving away not one, not two, but three pairs of tickets to the full-day Grand Tasting on Saturday. That's almost $900 worth of tickets, OmNomivores! Entering couldn't be easier, either:
1) Go to our Facebook post that announces the contest and mention a friend that you want to take with you.
2) Go to our Instagram post that announces the contest and mention a friend that you want to take with you.
3) Mention a friend you want to take with you and be sure to mention @OmNomCT and @GWFOODandWINE so we can track your entry.
Good luck and we both hope to see you there! The contest starts now and goes until Friday, September 11 at 6 pm. A pair of tickets will be given away for each of our social media accounts listed above. Well, let's look at more of what's going on Saturday to get you even more excited:
12:30-5:30 The Grand Tasting Tent features over 200 food and drink vendors from CT and Westchester. This is a must attend part of the festival and, trust us, you can actually take down all the food samples, just pace yourselves! Restaurants include Match, Bar Sugo, South End, The Whelk, Veal, Vespa, Truck, Madison Kitchen, Kawa Ni, Basso Cafe, Connecticut Cookie Company, Fortina, The Granola Bar, Pizza Luca and more! 
12:30-5:30: Balducci's Demo Tents ft. celebrity and network chefs.
12:30-6: Celebrity Green Room ft. celebrities, chefs, and culinary experts in a ultra-lux lounge. There will be interviews and discussions throughout the day . . . definitely a must visit to check out your favorites.
12:30-5:30: Cocktail Demo Tent ft. wine, beer, and cocktail experts.
4:30 Burger Battle hosted by Adam Richman, as well as Budweiser + Burgers from 3:30-8:30 where you can taste a ton of burgers and vote on your favorite.
And, so much more like a Grill Master Party ft. Extreme Chef Terry French, a Celebrity book store, the Empire City Casino Tent, Top Bartender Showdown, and Tacos & Tequila, all open to Saturday ticket holders!
12:30-10: The Festival VIP Tent is extra, but features a private bar, premium liquors, a private viewing area for Little big Town, and a private dining experience from the Ambassador Chefs.
---
To learn more about what's going on Wednesday (Champagne dinner with Chef Rui Correia), Thursday (Wine dinner under the stars), and Friday with the Most Innovative Chefs Gala with Rocco DiSpirito, check out The Greenwich Wine + Food Festival site.